In which Winnie-the-Pooh has many adventures and we get to join him...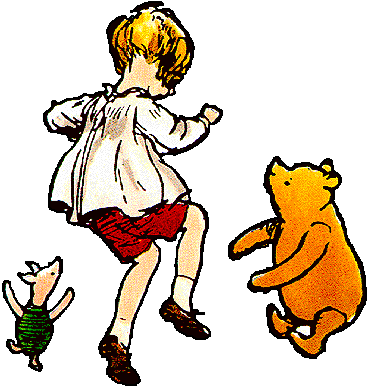 Winnie-the-Pooh, Christopher Robin, Piglet, Rabbit, Tigger, Owl and little Roo love to go on adventures. Today's Adventure is especially exciting because you are going to go with them. Today you get to choose where everybody goes and then you get to see some of the Brave and Grand things they do. Be sure to stay close and have somebody's hand to squeeze. It can get very scary when Heffalumps and Woozles appear or when a house falls down on top of you. We are all Very Small Animals in the vast world of the Internet and sometimes things can get Fierce.
ON TO POOH BEAR'S HOUSE
THANK YOUS
The pictures and quoted text contained in these pages, along with the fictional characters Winnie-the-Pooh, Eeyore, Rabbit, Tigger, Piglet, Owl, Kanga, Roo, and Christopher Robin, are based on the original works of A. A. Milne and Ernest H. Shepard. The pictures, the text, the characters, and their names are registered trademarks of Dutton Children's Books. Dutton Children's Books in no way endorses this Web site, nor are they affiliated with this page in any way. The information on this page comes from The World of Pooh, Copyright 1954 by A. A. Milne. This book is published in the United States by Dutton Children's Books, a division of Penguin Books USA Inc., 375 Hudson Street, New York, New York 10014. The author of this page has NOT created it for commercial use...but for the enjoyment of the reader...
This site sponsored by: